School Zone for Greenhithe School
The Greenhithe Board has implemented an enrolment scheme as directed by the Ministry of Education Under section 11H(1) of the Education Act 1989. All students who live within the School Zone described below, and as shown on the above map, shall be entitled to enrol at the school. At this stage we do not take students who live out of zone. We also don't have a ballot system.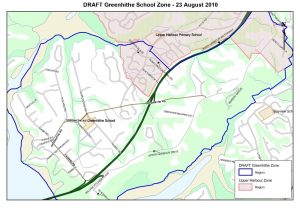 The School Zone is:
Starting at the southern point of Upper Harbour Motorway where the motorway bridge crosses over the harbour, move north from the starting point following the coastline to Pitoitoi Place (included).
Travel eastwards along Pitoitoi Place and continue along Huntington Park Drive (included) to Upper Harbour Motorway. Travel north along the centre of the motorway to the intersection of Upper Harbour Drive and Albany Highway. Travel eastwards down the centre of Albany Highway (Ashby Place included) to Upper Harbour Drive (included). Travel southwards down Upper Harbour Drive including all other adjoining roads until the Tauhinu onramp of the Upper Harbour Motorway (William Pitcher Place and Te Kawau Pass included). Continue down the motorway back to the starting point.
All residential addresses on included sides of boundary roads and no exit roads are included in the zone unless otherwise stated. Copies of this zone along with a map are available in the school office if you would like a hard copy.